We talk a lot about the benefits of investing.
That's because, among the reasons why Plum was founded, there is a social aspect. We believe that there is an unfair division in society 💔
It separates those with the knowledge of how to invest their nest-egg, and those who are at risk of having their savings eroded by inflation.
There are lots of reasons why people don't invest their money, but around ⅓ of you told us that you don't feel that you properly understand the process (taken from study of 1,032 Plum users, conducted October '19) 🤷‍♂️
That's why we designed Plum investments to be super-easy! You don't need a vast sum to begin, and you can start investing today.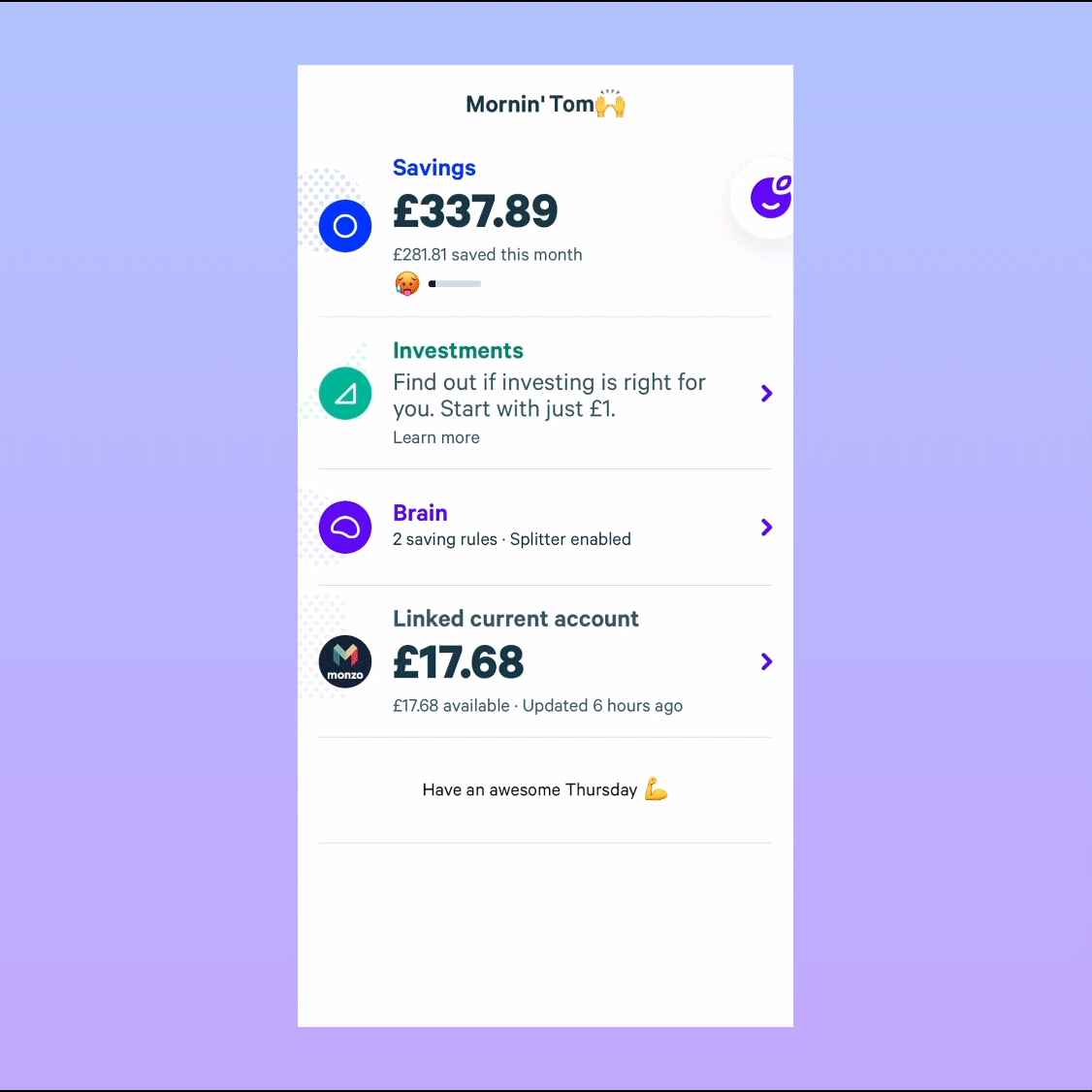 Open your investment account from just £1
You can create your investments profile in under 2 minutes ⚡️
Choose from a Stocks & Shares ISA (Individual Savings Account), or GIA (General Investment Account) if you already have a Stocks & Shares ISA.
You are permitted to deposit a total allowance of £20,000 per year, tax free, into a single Stocks & Shares ISA (though any money you pay into a Cash ISA elsewhere will potentially be deducted from this same allowance).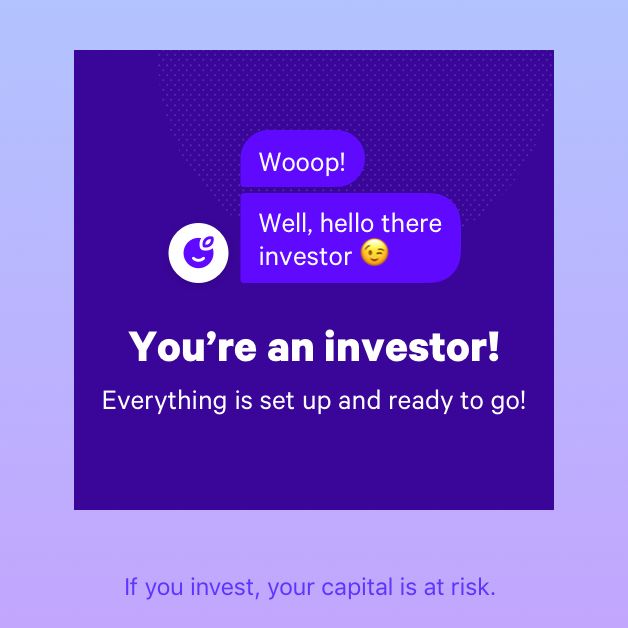 Select your investments
Because the value can go down as well as up, there's always an inherent element of risk when investing money. Here at Plum, we're all about promoting ways to invest sensibly according to your own appetite for risk.
Rather than expecting you to pick specific stocks, we've done the hard work for you, and instead offer a range of investment 'funds'. These funds are professionally managed portfolios containing many different securities (normally a mixture of stocks and bonds).
This means the risk is spread, though we pay a fee for the management of the funds. However, if one company in the portfolio performs badly, it only affects a small portion of your overall investment.
Funds are usually put together around themes, or risk-levels. For example, the Tech Giants fund features the likes of Apple, Facebook, and Google.
Please keep in mind, as with all investing, your capital is at risk and the value of your investment may go down as well as up. Note also that past performance is not a reliable indicator of future trends.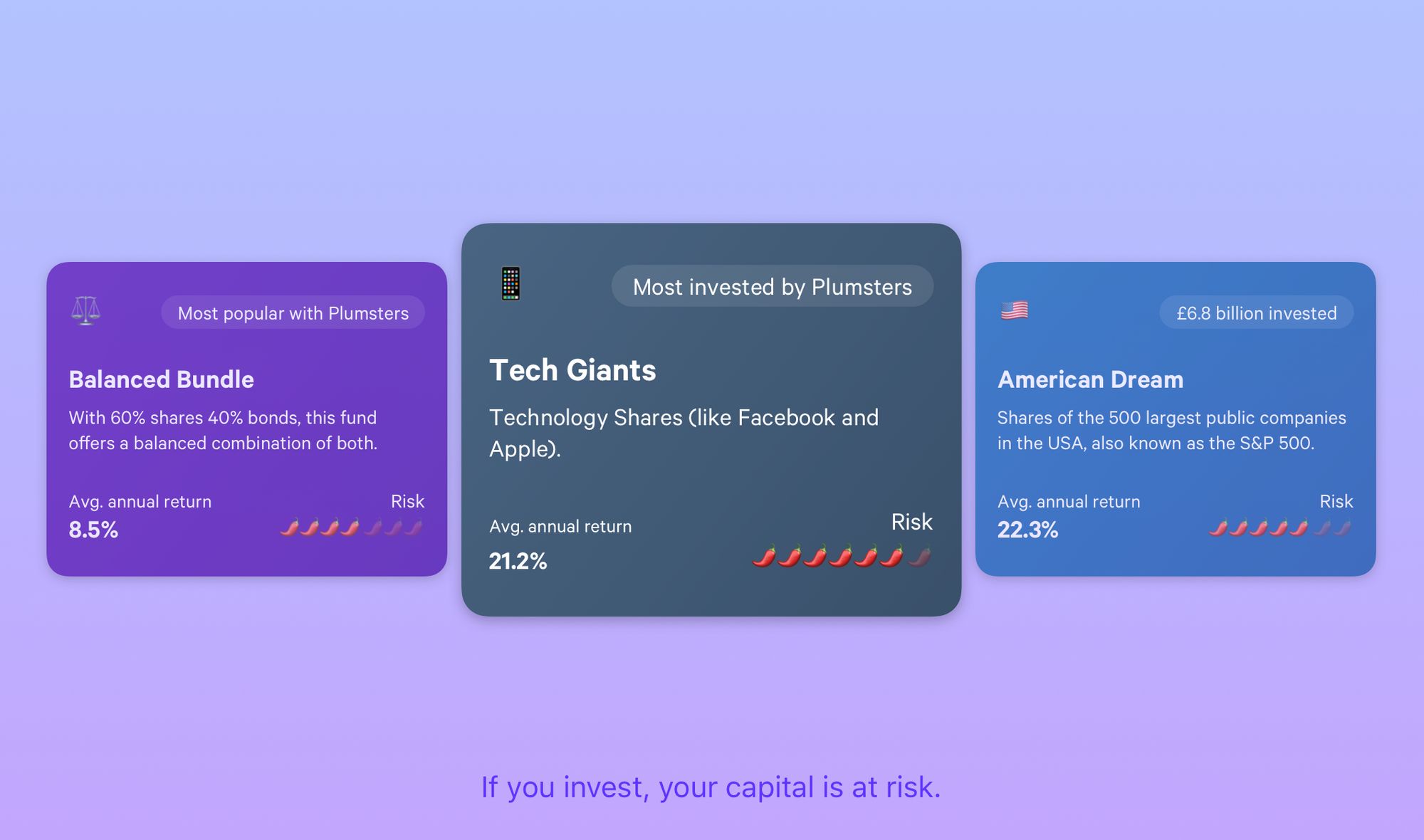 Automate your investments
Plum was built on the principle that automation can help you consistently stash money over time, and it can also make investing more convenient too!
Our splitter tool allows you to automatically apportion deposits between your Plum savings and the investment funds you've previously chosen. Not only does this make the process easier for you, but it also promotes good investing practice… as it's never a good idea to have all your eggs in one basket 🐣
To set-up your splitter you can tap 'Brain', then 'Splitter' from within the Plum menu (or type 'Splitter' in your Messenger chat). From there you can decide how you would like your savings to be allocated to the funds you've selected.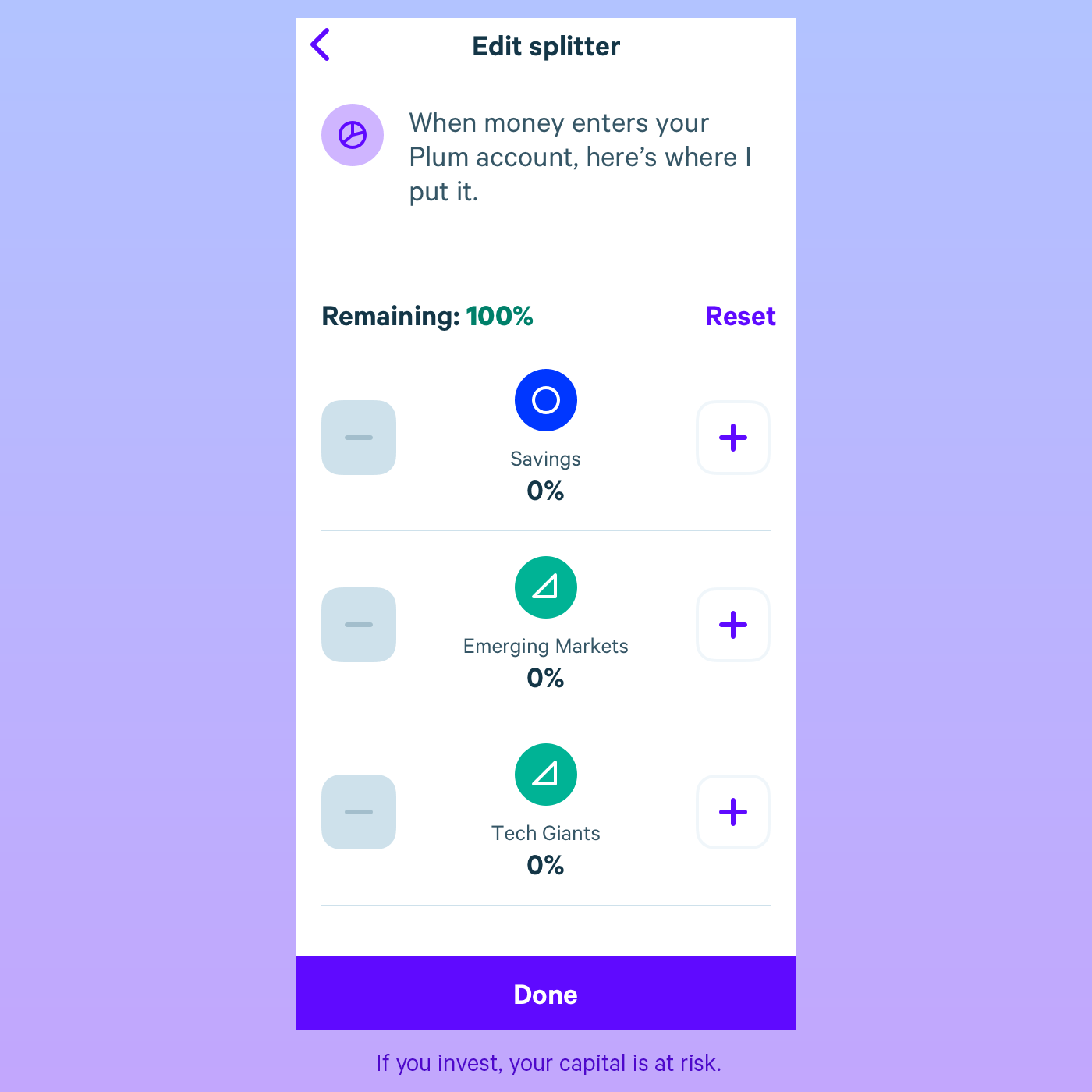 Or deposit manually
Although automation can be a very powerful tool, there may also be times when you prefer to make savings deposits manually instead. To do this:
Tap 'Investments' on your Plum menu (or type 'Invest' in Messenger)
Then hit 'Deposit'
Pick the fund you want to invest in
Enter the amount you wish to invest (i.e. £5)
Press 'Done' and you're all finished!
Because Plum is linked to your bank (though you can also invest straight from your Plum savings if you'd like to), it means there are no additional passwords or login credentials to remember. It can take up to 6 working days for your buy order to be processed and reflected in your Plum investments account.
How much does it cost to invest with Plum?
Although investments is a paid feature within Plum, we've worked hard to ensure the process is intuitive as possible and that all fees are totally transparent… whether you invest £50 or £5,000! Further to this, you will only be charged if you hold money in your Plum investments. If your investment balance is £0, then we'll automatically pause your subscription and you will not be charged for the service.

£1.00 a month (your first month is free)
0.53% annual average fund management and provider fee*
No hidden transaction or trading cost
No hidden withdrawal costs (or limits), or exit costs
For example, if you were to invest £1,500 with Plum then it would cost you an average of £18 per year, regardless of how many buy or sell orders you place.
*This includes a fund management fee of 0.15% which goes to our technology partner, as well as a 0.08%-0.90% fund provider fee (the precise fee will be dependent on the funds you choose to invest in). You can find a full list of funds with respective fees on our website. Both fund management and provider fees are charged annually, billed monthly, and are automatically reflected in your portfolio balance.
How to sell or withdraw your Plum investment
Even a relative novice should be mindful of the fact that investing is for the long-term... but even so, at some point, you'll need to get your money back! We made sure this process is as easy as pie too:

Tap 'Withdraw' from the 'Investments' tab within Plum
Select the fund and enter the amount to withdraw
Press 'Done' and your sell order will be processed
Because your investment first has to be sold, it can take up to 5 working days for your money to be deposited back into your Plum savings.
Watch your money work
Although most people like to try and actively 'forget' about their investments, it's only natural that you should be curious. So we designed a slick interface that you can use to track the value of your portfolio… just don't blame us if you find it too addictive to use!
Tap 'Investments' from your Plum menu (or type 'Investments' in Messenger) for an overview of your overall returns and a breakdown by fund.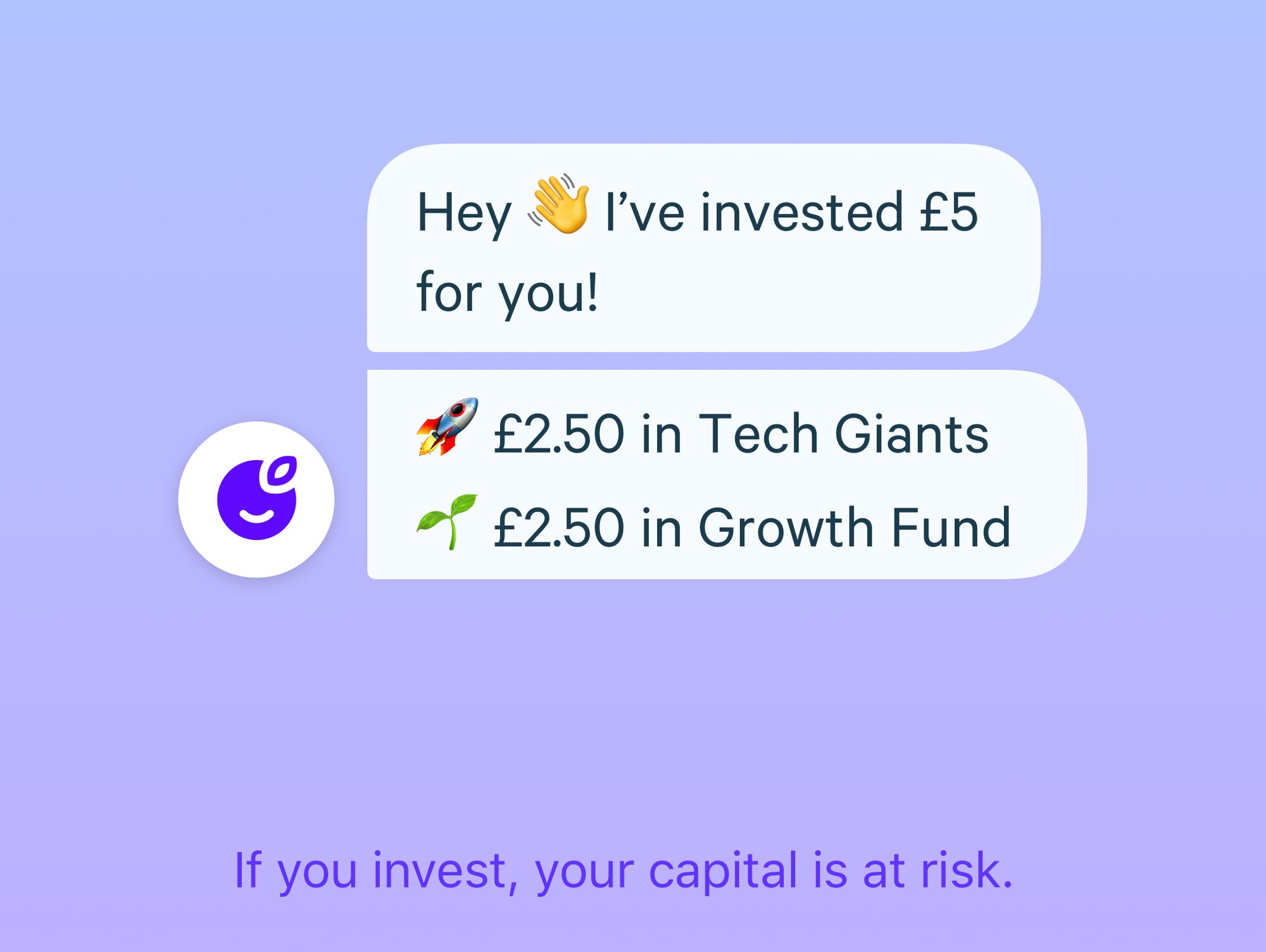 We need to know our customers
During the signup process, when creating your investments account, you may be asked to verify your identity by providing e.g. a passport or driving license.
This is known as a KYC (Know Your Customer) check, and is necessary due to anti-money-laundering legislation. In most cases this check is completed almost instantly, but may take up to 5 working days for us to process ⏳
If you'd like to learn more about Plum then you can check out our website.
Download Plum
For all the latest Plum news and discussion, head to our Plummunity Forum, or follow us on Instagram and Twitter.