Take a look at our new menu and what we have coming soon.
Today we're launching a brand new navigation menu for Plum on Messenger! The new menu gives you instant access to the information you most care about (e.g how much savings/investments you have) and will allow us to nicely group together new features as Plum's capabilities grow even more 🤓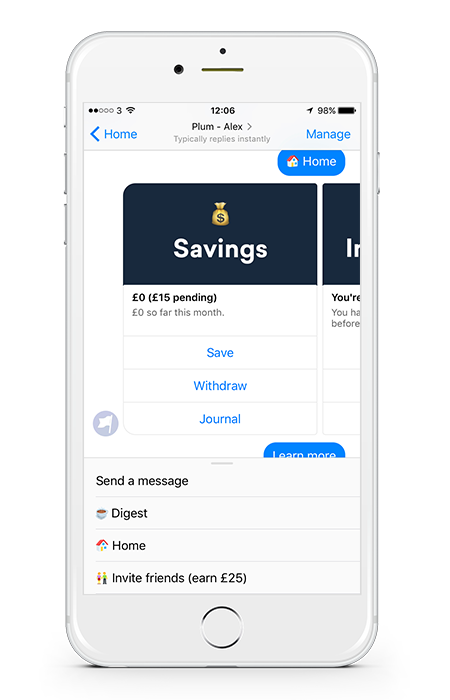 The first thing you'll notice is that the bottom menu (called "Persistent Menu" in Messenger lingo) has two new buttons: ☕️ Digest and 🏠 Home.
The Digest is a quick peek into how you're doing on Plum at the moment — it tells you about your savings and investments as well as offers tips on what to do next.
Home is where you can see everything about your account on Plum. It's split into different groups: savings, investments, spending, saving brain, profile and help.
Each group is a Messenger card and it's made pretty by an emojiful cover image. We've used the title and subtitle to give you as much information as possible right off the bat. For example, the 📈 Investments card tells you how much you currently have invested, your current interest rate and how much you've made in interest so far (a frequently requested feature).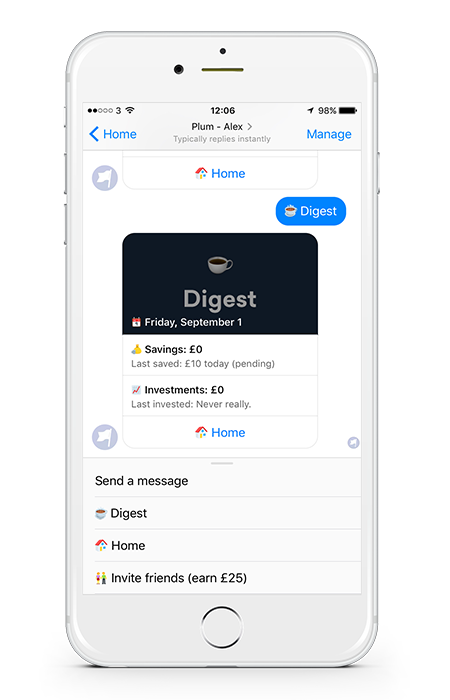 A new addition is the 🤖 Saving Brain card.
This allows you to change Plum's saving mood, pause your automatic savings and create a goal.
We will be working on giving you more control on Plum's behaviour in the future so watch this space (…card).
Finally, the new menu is directly accessible by typing a few keywords: "savings" triggers the 💰 Savings card, "home" triggers home, "investments" triggers the 📈 Investments card, and so forth.
If you're investing and are used to typing "savings" to check on your savings and investments balance, the same information can now be found in the Digest!
As always, we really appreciate your feedback and thoughts so if you give the new navigation a spin and you think there's something we can improve, drop us a line on Twitter, Facebook or Messenger 👋