We feel it's important that everyone using Plum should be able to earn a return on their savings. So, we offer Interest Pockets* to all customers, including those on the free version of our app, with Basic tier customers able to earn 3.51% Annual Equivalent Rate (AER).
We pride ourselves on our holistic offering. So, although we don't claim to have the best possible rate available on our high-interest savings account, we work hard to bring you a fixed rate that we believe is always competitive.
Subscribers to our Plum Pro and Plum Ultra tiers can earn a better interest rate and create/customise extra Pockets for each of their goals, with the very best savings rate reserved as a special benefit for Premium customers.
*Interest Pockets are provided by Investec Bank Plc.
What are Plum Interest Pockets?
By default, any money deposited into your Plum account will land in your Primary Pocket (an electronic money wallet). This Pocket doesn't pay interest, but you can set up the app to suit your priorities from there!
In addition to your Primary Pocket, you can create a separate Savings Pocket (your banking app might call this a savings pot) that pays interest. Meaning you can fight inflation by earning a return on your cash savings.
Our Interest Pockets also offer the same protection for your money as a high street bank account, with the Financial Services Compensation Scheme (FSCS) covering savings up to £85,000.
How do Plum Interest Pockets work?
When you create a new Pocket you'll have the option to choose between a regular Pocket or one that pays interest.
The trade-off, for this ability to earn a return on your Plum savings, is that withdrawals from an Interest Pocket take longer to process.
You need to provide notice of 1 working day to withdraw money from an Easy Access Interest Pocket, whereas withdrawals from e.g. your Primary Pocket can be withdrawn to your bank for them to process within 5 minutes.
If you're using Plum to manage your savings and investments, you can also use our Splitter to automatically divide your deposits between Pockets and investment funds. This includes putting money into a tax-free Self-Invested Personal Pension (SIPP).
Capital at risk if you invest.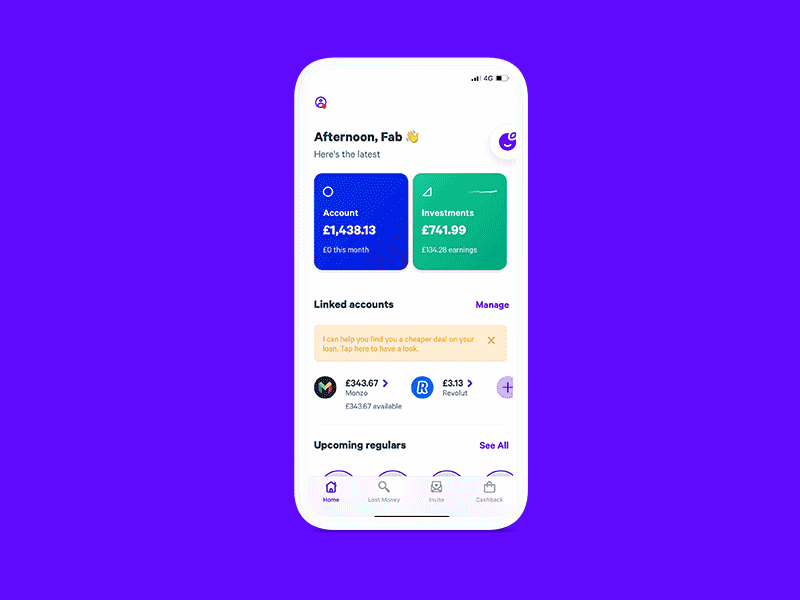 Is my money safe with Plum?
Any money you store with Plum is protected, with slightly different regulations covering each of the financial products that we offer.
Money saved with Plum in these Interest Pockets is held with a UK Bank (Investec Bank Plc.). Unlike your Primary Pocket, money saved in an Interest Pocket is protected by the Financial Services Competition Scheme (FSCS).
This means that if anything were to happen to Plum then the bank can return your money to you directly. Should something happen to the bank itself, then you could benefit from the Financial Services Compensation Scheme (FSCS) and claim up to £85,000 of your money back if the scheme applies to you.
What happens if interest rates change?
Whichever Plum tier you're using, we've worked hard to offer you one of the most competitive interest rates going.
However, interest rates tend to fluctuate quite frequently. So, although the rate of interest we offer may change in the future, we'll always let you know in advance and regularly respond to any adjustments that the Bank of England (BoE) makes to ensure we remain competitive.
The benefits of a Plum subscription
Customers using the Basic (free) version of the Plum app can earn 3.51% AER interest on their savings, with a better rate of 3.72% AER available on our Pro and Ultra tiers.
As a special reward for Premium subscribers, we're offering them our best interest rate. They can save money into a Premium Interest Pocket to earn a return of 4.21% AER.
Each level includes everything from the lower tiers. Aside from the availability of a better interest rate for savings Pockets, here's what to expect.
Plum Basic (free)
Using the free version of Plum you can automate deposits, earn 3.51% AER interest on your savings and choose to invest in over 1,200 different company stocks by trading fractional shares in real time, commission-free (other fees apply).
Plum Pro (£2.99 per month)
In addition to the smart stuff in our Basic tier, Plum Pro provides customisable Pockets with a better rate of interest (3.72% AER), gamified deposit Rules, our simple range of 12 investment funds and Cashback on purchases.
Plum Ultra (£4.99 per month)
An Ultra subscription builds on the features in our Basic and Pro tiers by unlocking advanced budgeting tools, a free Plum debit card, more exclusive deposit Rules and our best Cashback rates.
Plum Premium (£9.99 per month)
When you subscribe to Premium you get access to our full suite of personal finance features. This includes our best interest rate of 4.21% AER and more investing options, with a wider variety of company stocks and funds to pick from.
If you're a new subscriber, you can try any of our paid plans for 1 month, totally free of charge. Plum is available for Android and iOS mobile devices.
Capital at risk if you invest.
Check out our website to learn more about Plum.
Download Plum