Let's introduce ourselves.
Plum is your money's best friend - an intelligent chatbot living within Facebook Messenger amongst your other friends' which helps you save and grow your money.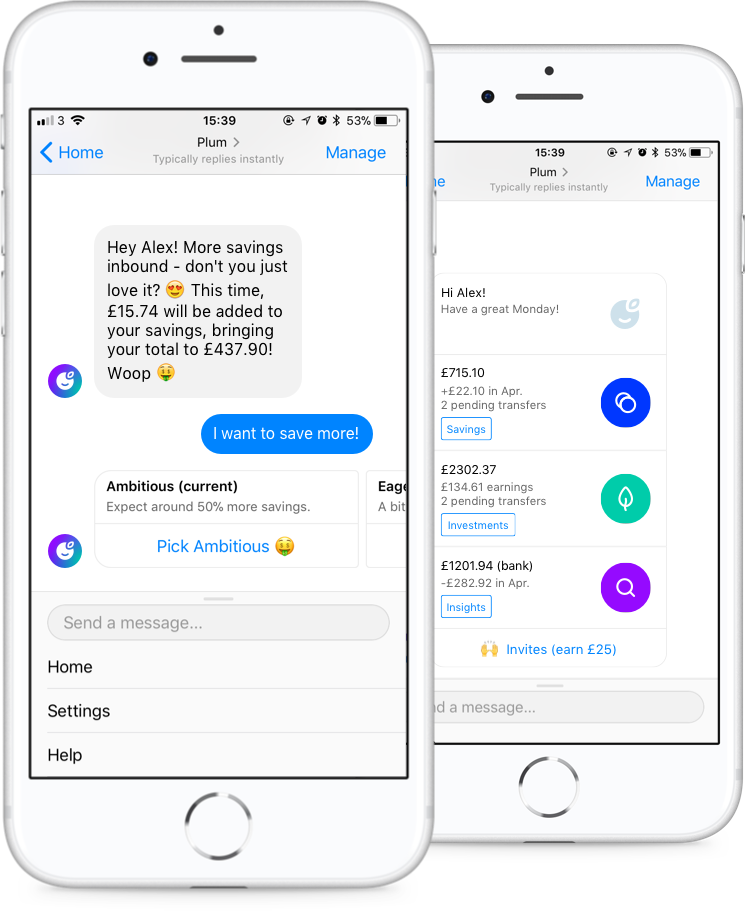 Interesting, so how does Plum work?
You link Plum to your bank account so it can analyses your incomings, outgoings and spending patterns.
Based on this knowledge, Plum automatically calculates how to:
1) Save you money. With useful insights on the way you spend money, letting you know if you're getting ripped off on things like utility bills and helping you switch in a few clicks.
2) Automate your savings. Plum calculates how much you can afford to save without impacting your lifestyle and automatically moves small amounts every few days into your Plum saving account. Overtime, it quickly adds up to a nice stash without you even noticing!
3) Grow your money. You can choose to invest as little as £1 of your savings in a range of funds in to become an investor and start earning returns. Funds are based on themes you care about (Ethical companies, Tech giants or Emerging Markets) or on your risk-level (Conservative, Balanced and Growth).
Saving you money is completely free and will always be, there is a £1 monthly fee if you choose to invest after your first month.
Superb reviews. Superb fans.
Plum is one of the most recommended personal finance app of 2018 being rated 'Excellent' on Trustpilot and has over 400 5-stars reviews on Facebook.
Over 200,000 people use Plum is the UK after only being launched for a year and a half and is widely covered in the press:
Evening Standard "It's making it easier for young people to see those pounds build up."
Financial Times "Aim to disrupt the industry"
Money Saving Expert "Get people saving without thinking about it"
Amazing rewards.
Our Brand Ambassadors are Plum Pals, because once you've sign up to Plum we become Pals and Pals get extra special treatment.
£25 for every 3 people who sign up to Plum
After 15 people, get £5 per new person signing-up to Plum
Once, you've invited over 15 people you become Plum Pal eligible for even more rewards.
You're in? Then let's get started.
1) Sign up to Plum here
2) Once you are signed up get your referral link by typing 'invite'
3) Start sharing your link and collecting your £££.
Rewards are instant and paid into your Plum savings. To withdraw them anytime just type 'withdraw'.
Terms and Conditions here.
---
Top 5 payouts
1. Kelly - £3,810
2. Lauren - £1,522
3. John - £1,298
4. Sara - £1,080
5. Katie - £998
We've gathered their top tips here so you can join them.