Automation is at the heart of Plum. From your investments to your savings, we're all about giving money management that hands-free feeling 🙌
We've talked a lot about the important role that budgeting plays within any personal finance strategy... and the great news is that now your budget doesn't need to rely on scruffy scraps of paper or cash-stuffed envelopes.
Plum's Money Maximiser is the first fully automated solution for managing your spending and making your money go further.
We thought it was time to bring budgeting into the 21st century, and we promise there's not a single, complicated spreadsheet in sight 🤓
What is Money Maximiser?
Money Maximiser is an advanced budgeting tool that actively makes your money work for you.
It helps you manage your money by tracking your spending in real time. And by identifying when or where you've overspent, Money Maximiser allows you to make adjustments and keep your monthly budget on track 📈
In addition to helping you budget, Money Maximiser seamlessly moves your money, to keep it in your savings account for as long as possible (maximising interest), before providing a weekly flow of cash back to your everyday bank account to cover spending.
You can earn interest on any money that's not immediately required, and your savings are protected by the Financial Services Compensation Scheme (FSCS).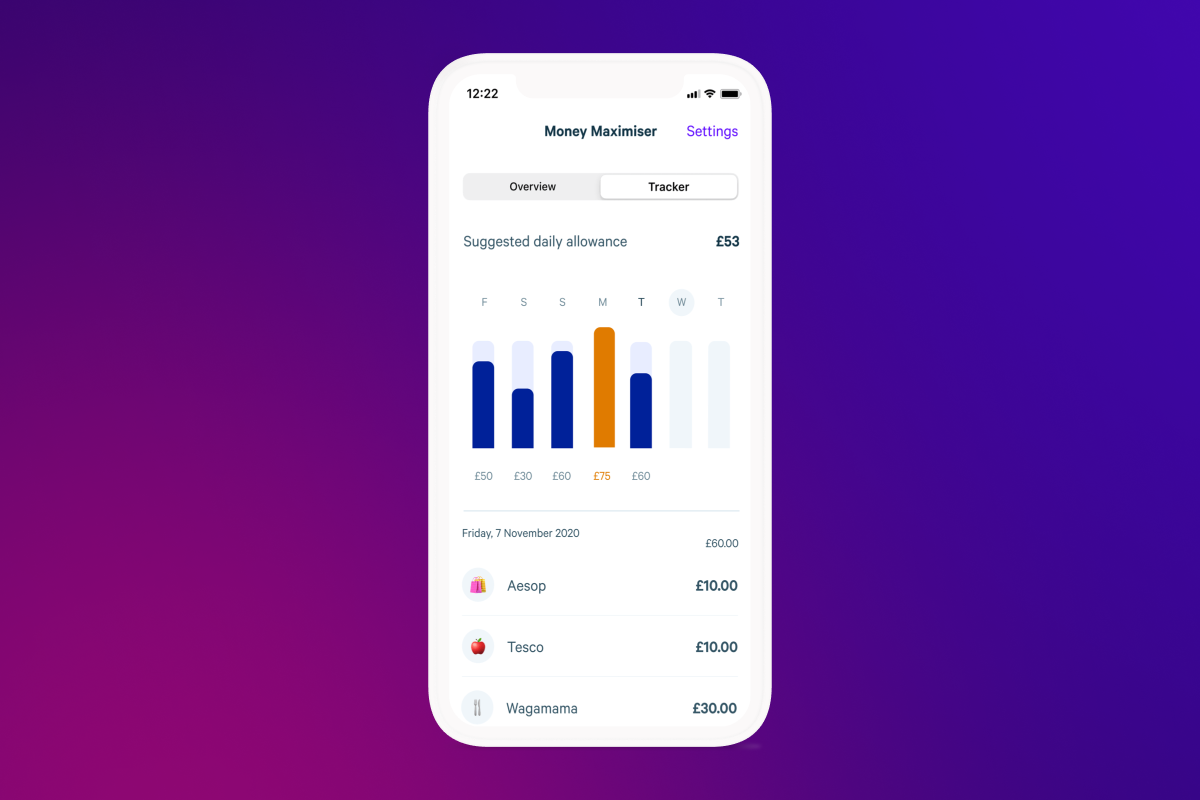 How does Money Maximiser work?
Money Maximiser accounts for your current balance, the expected dates that your salary, bills and any subscriptions will each be paid, and also the Plum saving rules you currently have enabled.
By cross-referencing all of this information, the AI-powered Money Maximiser calculates the money you have available to spend until your next payday.
Any cash that's not immediately required is moved into your savings account, where it can earn interest for as long as possible, with your remaining spending money divided up and allocated on a weekly basis.
Each Thursday, Plum will initiate the transfer of money back to your bank to cover your spending for the following week (from Friday to Thursday). You can also withdraw manually if there are unforeseen expenses to cover.
To help with budgeting, Money Maximiser also tracks your spending in real time and provides a suggested daily limit that is automatically recalculated immediately if you do overspend 🛍️
What are the benefits of Money Maximiser?
If you already work out your budget on a piece of paper or spreadsheet before transferring the money for bills and spending into a separate account, then you already know the benefits of budgeting.
Not only does Money Maximiser help you reach your financial goals faster, it also automates the process for you. So you'll never have to remember to manually move your money each week 🎉
If you ever wonder where your money went at the end of each month, then Money Maximiser can help you take back control of your budget. You can view your daily allowance and plan your spend until payday.
As with everything Plum does, you stay in control of your money. You can override the default suggestions if you prefer and specify the frequency and amount of money you'd like transferred instead.
You can also pause Maximiser at any time, which will instruct Plum to initiate a transfer of all remaining money from your Maximiser Pocket to your bank.
Who can use Money Maximiser?
Money Maximiser is only available to Plum Ultra subscribers (price £4.99 per month), which also includes an enhanced Cashback rate of +25% vs. the rates offered as part of a standard Plum Pro subscription.
Is my money safe with Plum?
Any money you store with Plum is protected. For a detailed look at the different ways we look after your money you can refer to our earlier article.
Money saved with Plum in an Interest Pocket is held on Trust with a UK Bank (Investec) 🏦 A Trust is a legal mechanism which means we can look after your money, but legally it never stops belonging to you.
This means that if anything were to happen to Plum then the bank can return your money to you directly. Should something happen to the bank itself, then you could benefit from the Financial Services Compensation Scheme (FSCS) and claim up to £85,000 of your money back, if the scheme applies to you.


To learn more about Plum you can check out our website.
Download Plum
For all the latest Plum news and discussion, head to our Plummunity Forum, or follow us on Instagram and Twitter.